you know, i always have wondered whether its more difficult to stand by and watch someone go through something, or actually go through that thing yourself. i think the answer can be different for everyone; while some people might be strong and able to experience great trials in their lives, others may be better at being there for those that go through trials and offering support. i may never know. last friday, my baby sister (literally a baby, just turned 18) was diagnosed with a
Phyllodes tumor
in her right breast.
it is a rare and aggressive tumor that could result in breast cancer and/or spread to her lungs, heart etc. while my sister has always been one of the strongest people i know, she has handled this situation very well and taken everything in stride. i have not once seen her act the victim in this or as "why me?" she has simply absorbed everything that is going on and moved forward.
now, having the walnut sized tumor removed is inevitable for her and could happen as soon as this weekend, but tomorrow is, in my opinion, the hardest part: the biopsy. tomorrow she will learn whether her tumor is malignant or benign and how much tissue is actually going to be removed during her lumpectomy. - you know in the 20's and 30's when the newspapers were coming up on a big story and they'd print two head lines so they'd be ready to sell the story immediately no matter what the out come was? the young newsies would sitting outside with their stacks of papes, waiting to hear the news on which head line to sell and hope they had bought enough of that particular headline.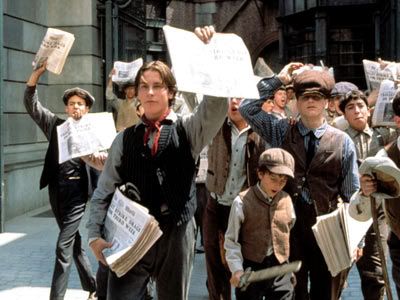 that's what i feel like tomorrow will be like for my family. we'll be those hopeful newsies, waiting for the headline.
benign or malignant?
no matter what the headline is for tomorrow though, i know we'll get through it because we have not only each other but so many wonderful friends and family members praying for us and wishing peace and comfort our way. and in addition to all of that, we have a merciful Father in Heaven who has a plan for my sister and my family and i know that no matter what's going to happen tomorrow and in the future, He'll give us the strength we need to bear the burden he has asked us to bear. we are not alone in this. i know that to be true.
here's hoping for a positive outcome tomorrow! and cc, i love you, baby! no matter what happens, you got this.
♥ ♥
to read more about my sister and her outlook on life as she goes through this and other life experiences, check out her blog
The Freedom Blog
. tell her i sent you.